Product Info
Our Netley Hand Lotion takes its inspiration from the hard working hands of our ancient monastries. A 100% natural formulation with zero petrochemicals, plastic fillers or silicones. Instead our ingredients pack a powerful punch! Our duo of butters contain essential fatty acids and vitamins and help to deeply nourish the top layers of the skin leaving it supple and plumped, our organic extracts of Chamomile and Millefolium (Yarrow) help to soothe and calm whilst our anti-oxidant and anti-bacterial essential oils not only help to neutralise free radicals and toxins, but are expertly blended to create a beautifully delicate floral aroma, that gently envelopes the skin.
Our beautiful Netley 100% pure essential oil blend combines purifying Sage, balancing Lavender and the delicate floral aroma of Rose, Linden Blossom and Rose geranium.
All skin types can benefit, even young, sensitive and compromised skins.
Product Ingredients
100% natural, based on organic botanical extracts, pure essential oils and plant actives
Non-toxic
Antibacterial & Antiviral
Clean air
Ocean safe
Biobased & Biodegradable
Cruelty free & Vegan
Dermatologically tested
Children & pet safe
Free from: all toxic chemicals, including petrochemicals, phosphates, sulphates, parabens, glycol ethers, synthetic fragrances and dyes.
Low terpenes & low limonene formulation
100% recyclable packaging
Made in England
TINCTURE has taken inspiration from ancient monastic sites and their cloister gardens which form the foundations of today's botanical knowledge. Built in the 13th century, Netley is the most complete surviving Cistercian monastery in South England. Post dissolution, the neglected site became overgrown with wild roses, lavender, ivy and trees and came to be celebrated as a romantic ruin inspiring many artists, including John Constable and writers such as Thomas Gray. Jane Austen is reported to have visited Netley, finding inspiration for her 1817 novel, Northanger Abbey.
% natural blend including lemon myrtle, cardamon, eucalyptus, lavender oils and organic chamomile extract. Derived from monastic herbal remedies.
Why Non Toxic?
At TINCTURE, we create 100% natural and non-toxic cleaning products formulated to be safe for the health your family, your home and our planet.
Netley Hand Lotion does not release any harmful VOCs (Volatile Organic Compounds) into the air, so your cleaning routine will not impact your indoor air quality.
All our formulations are 100% natural we only use ingredients that do not cause adverse effects to our health, skin or environment.
Our formulas are safe for the environment and will break down naturally without harming plants, animals or marine life.
Our products are antibacterial and antiviral and have been tested and verified to kill 99.999% of bacteria, including MRSA, Salmonella, E.Coli, Pseudomonas Staphylococcus and Enterococcus and 99.99% of viruses, including enveloped viruses like coronaviruses.
Our products are naturally antibacterial and antiviral and have been tested and verified to kill 99.999% of bacteria, including MRSA, Salmonella, E.Coli, Pseudomonas Staphylococcus and Enterococcus and 99.99% of viruses, including enveloped viruses like coronaviruses.
We performance test against market leaders to ensure our 100% natural products are equally as effective or even more at cutting through daily-build up of germs, grease and grime without harsh, toxic chemicals.
Whilst our products are tough on germs and grime they are dermatologically tested to be safe for skin and hands.
All our packaging is either fully biodegradable or 100% recyclable.
How To Use
After using your favourite hand wash Tincture or when your hands are feeling a little bit dry, pump the hand lotion directly on to hands and massage in. Use as often as required and within 12 months of opening.
If irritation occurs, rinse thoroughly and discontinue use.
Pairs perfectly with our Netley Hand Wash for faultless hand therapy.
Delivery & Service
We ship to addresses in the UK and Europe.
We aim to despatch orders the following working day after they have been placed. Our UK standard shipping service is 48 hour tracked and signed for.
Post and Packing is £5.95 for all orders under £50, with FREE delivery for orders over £50. For European Post and Packing, please enter your address at checkout as costs vary across the region.
Orders are processed on working days only, Monday to Friday, excluding UK Bank Holidays.
Toxic Free Cleaning
Our award-winning cleaning and home products are 100% natural, non-toxic, antiviral, antibacterial, sustainably sourced, biodegradable and free from harmful toxic chemicals.

They smell amazing and work just as well, if not better, than chemically based alternatives which pollute the air in your homes and can be detrimental to your health and the health of your loved ones.
Customer Reviews
Write a Review
Ask a Question
12/10/2021
Anonymous

United Kingdom
Iona and Netley hand lotion
Brilliant have been using it since you started! I use it as a body lotion too hence the vast number if bottles I buy!! It's wonderful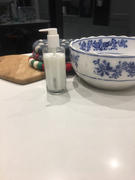 09/28/2021
Jane H.

United Kingdom
Fab hand cream - its the best
I love this hand cream and have bought it as a present for a friend as well. Stylish robust glass bottle and looks lovely in my white bathroom. The scent is hard to describe but I adore it. I can highly recommend this product.